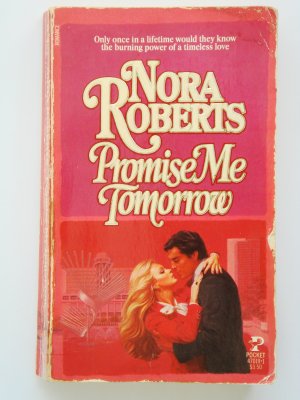 Paperback: 296 pages
Publisher: Pocket (1984)
Language: English
ISBN-10: 0671470191
ISBN-13: 9780671470197
Synopsis:
Sarah had to build something big, in her work and in her life. And Byron's searing kiss stirred wild longings in her no other man had touched. Her future as an architect was in his hands. But he would trap her in a desperate passion - one never fulfilled by love. She fled to a glamorous assignment in Paris - to the embrace of an elegant Frenchman whose sensuous caress hid a dangerous ambition.
Comments:
This is one of Nora Roberts' most sought after books. It has been out of print for a very long time and Ms. Roberts is refusing to have it reprinted. There have been only a few publishings of it in the mid-1980's. Since then Nora fans had been searching for the few remaining copies. As you can imagine the condition of the remaining books are deteriorating with time. And after 25 years it is very tough to find a good reading copy let alone one in priecetine condition.
Where to find one:
Luckily for you we have a great reading copy of this book in our store
http://acread.ecrater.com/product.php?pid=4517706
For collectors of Nora's books we have several more copis of this book. Here are two different prints of it with rare covers
http://acread.ecrater.com/product.php?pid=2619879
(I have only seen one more book with this cover over the years, searching, buying and selling copies of this book.) and
http://acread.ecrater.com/product.php?pid=2056999
(I have seen a few books with this cover, however it is still pretty rare)
Here is a copy of this book printed in Canada. I have not run accross another such copy. Looks similar to the US prints however there are minor differences.
http://acread.ecrater.com/product.php?pid=4246475
And here is the same book printed in German.