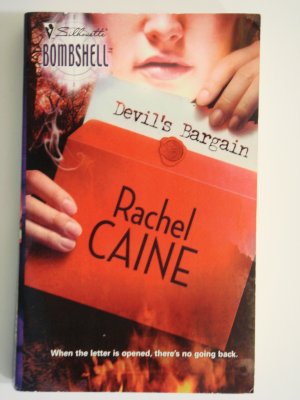 DEVIL'S BARGAIN
Mass Market Paperback: 304 pages
Publisher: Silhouette (2005)
Language: English
ISBN-10: 0373513674
ISBN-13: 978-0373513673
Genre: Romance
Synopsis:
Jazz Callender - don't call me Jasamine - is an ex-cop with a goal: opening her own private detective agency and proving her former partner is innocent of murder. Too bad no one will lend her the money. Until a sexy lawyer with the devil's own grin appears with an offer she can't refuse...
$100,000. A savvy new partner. And an agreement to make any case arriving via red envelope a top priority. But if Jazz accepts, there's no turning back. Because once she opens that envelope, all hell's gonna break loose...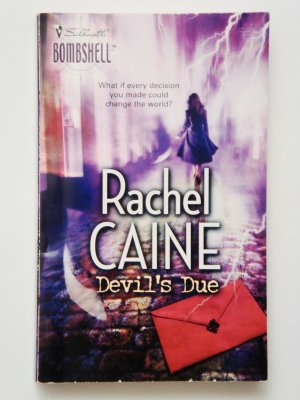 DEVIL'S DUE

Mass Market Paperback: 304 pages
Publisher: Silhouette (2006)
Language: English
ISBN-10: 0373513879
ISBN-13: 9780373513871
Genre: Romance

Synopsis:
The money Lucia and her new partner received to open their detective agency had come with strings: any assignment delivered via red envelope had to be top priority. No sweat. No one could make Lucia do something she didn't believe in - right?

Wrong. Lucia soon learned that every choice she made meant life or death for innocent people. No one could be trusted, not even the ex-cop she'd hired - and fallen for. in fact, Ben might be her fatal weakness, if the powers warring to control the future used him to control Lucia...


Comments:
These two books make up a wonderfully intriguing duology. Writer Rachel Caine is better known for her popular urban fantasy series, the Weather Wardens. Her writing in these two books is just as strong, exciting and interesting. She is in my opinion definitely a rising star who will go far in her career.
The romance aspect of these books is a bit secondary to the interesting mystery-adventure paranormal plots. So the expectations may be different judging by the publisher (of these books), however they definitely won't be a disappointment.

Where to find one:
You can find a copy of Devil's Bargain at AC Read: